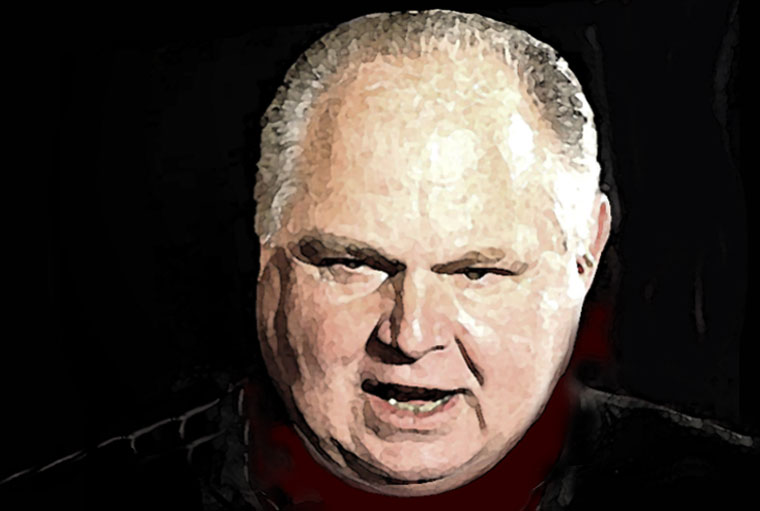 Okay, you guys know me by now. I'm usually really nice, right? I don't go around talking about people and calling names. That's just not how I roll, but I have to say this, and I have to say it right now at the very beginning, before I even think about typing another word: Rush Limbaugh, you look like a pig.
Whoo, that felt good. Had to get that off me. It was weighing me down. Now, I can get back to being my normal, sweet self. If you're wondering why I said that, you probably haven't heard Limbaugh's latest jewel on Michelle Omaba and how he thinks she's a hypocrite for calling for everyone else to eat "roots and berries and tree bark… [when she] does not project the image of women that you might see on the cover of Sports Illustrated swimsuit issue."
Look here, Mr. Limbaugh. First off, not even the women on the cover of Sports Illustrated look like the women on the cover of Sports Illustrated. There is so much airbrushing and computer altering that that even you could pass for a scantily-clad hottie. Secondly, Michelle Obama looks great, but even if she didn't, how dare you be upset at her for trying to fix some of the f'ed up eating habits we Americans have been tricked into adopting.  It's apparent that you don't care about your own health or looks, but I care about mine, and I care about those of the people around me. So, when I hear someone with as much power and influence as Mrs. Obama doing things like planting a garden at the White House and advocating for healthier food for children, I can't help but smile.
Seriously, how can you be against healthier food for children? Are you the devil, because I can't imagine any normal human having a problem with that. Even the biggest junk food junkie knows that children (and adults) need healthy food. And even if that junkie was too weak and addicted to make the changes himself, he'd have enough sense to see the value in it and not attack the person advocating it. Yes, I'm convinced. You're the devil. That's the only explanation.
Or maybe it isn't. Maybe you just represent a tiny sliver (or should I say a big, round sliver) of the male-dominated forces that want only to maintain the status quo. You're not the devil at all. You're just another man who hates to see a powerful woman–especially one who isn't white–pushing an agenda that doesn't coincide with yours.  It happens all the time. Any time a woman with some reach encourages people to do something better and different, she gets attacked by people like you. The same thing happened to Hillary Clinton when she used to campaign for universal health care back in the 90′s. You even do it to President Obama–a man–who attempted to make small changes in the current American health care ticking time bomb.
The arrogance and complete disregard of people like you never ceases to amaze me. You want to sit up and live a nice cushy life, but then get upset when someone suggests a policy that would allow others to possibly live as good as you.  "How dare you want Americans to be healthier?" you say. "They need to continue to eat themselves into sickness so these insurance companies (and everyone invested in them) can keep raking it in.  What's that? People are dying and going bankrupt over hospital bills? So what? That's a small price to pay for the type of money it's generating."
You'd think I'd get used to this sort of thing. The powerful few have been trying to silence advocates of the masses forever. This is not new. Just yesterday was the 45th anniversary of the death of Malcolm X,  a leader who lost his life trying to free the minds of his people. See, I've got you figured out, Mr. Limbaugh. You don't like free minds. You know how it works:
Free minds=independent thinking=no more easy manipulation=no more brainwashed masses= eventual revolution and lasting change.
You know that equation forwards and backwards–just like the protesters in Egypt knew it–and you hate it. You see what they accomplished in a few short weeks, and you can't stand the idea of Americans being even a fraction as bold by taking charge of their own life and health.  So, what do you do? You compare Mrs. Obama to an altered image of a super model, and then lambaste her for not looking that way.  And then, as if that weren't enough, you use that silly comparison as justification for why people shouldn't get on board with her campaign. Never mind how you look. Never mind the fact that your assessment of her is completely off. Never mind the fact that something as superficial as looks shouldn't even be an issue at this point. America, despite spending more on health care than any other country, ranks 36th in life expectancy, right behind South Korea and Cuba.  Everyday,  new products are created and new books on written on how to be healthy and happy. Yet and still, we continue to slide down the slope of sickness and disease. But, hey, those are only minor details, right? They're unimportant and completely unworthy of anyone's attention. As long as you and your crew keep living well, all is right with the world.
~Nadirah Angail
-Check out my published works!